Solar PV forecasting
Integration of photovoltaic energy in electrical networks (self-consumption, microgrids, utilities distribution networks...) is a new challenge. In order to facilitate PV penetration the forecasting of solar energy is required.
This section provides various tools to forecast PV production anywhere in the world.
A PV forecasting tool is needed to estimate the available PV resources for the day(s) after. Most of the developed solutions use weather forecasts supplied by specialized providers.
Forecasting services mainly apply to utility scale solar photovoltaic systems.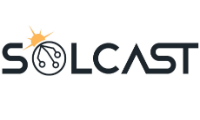 Solcast provides live and forecast solar irradiance, PV power and weather data, for all continents except Antarctica, delivered via API. Forecasts are rapid updated every 5 to 15 mins with the latest update satellite imagery. Available at time resolutions of 5 to 60 minutes, extending out to 7 days ahead. Site-specific power modeling tuning, SCADA integration, sky imagers, behind-the-meter grid aggregations available. Free to try!